By Words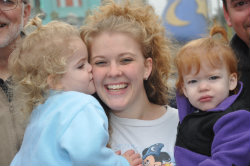 Jeanene shares how her life went from darkness to a joyful life in Christ!
PRAISE OUR LORD AND SAVIOR JESUS CHRIST!
I am always THANKFUL for all the WIT Ministry did for me when I was in one of the darkest experiences of my life! I can never THANK YOU ALL enough! You all are in my prayers.
The LORD, as always is FAITHFUL! He is still Blessing me with HIS most Precious Presence. I am very Thankful for the Blood of JESUS because I am so unworthy. I am Grateful for His GRACE!
I have been enjoying my family; Daughter Aquila, Son-in-law Wade, 1st Granddaughter Layla who is 4 today (Blonde hair) and my Bethanie (Red hair) who will be 3 on March the 4th. I am so thankful for their love and forgiveness towards me.
I am diligently serving the LORD and working 3 part time jobs. The LORD has blessed me with a Christian room-mate in a very comfortable home and neighborhood. THE LORD IS GOOD, Always!
As requested, I am sending a couple of pictures of my family and myself from when we were BLESSED to go to Disney last year from Dec 10-18th.
Jay, Wade's Father went with us, THANKFULLY. However, unfortunately, Jay was killed in a very bad car accident this past April. He was hit by a triangle moving truck which ran a red light and hit Jay. He died 3 hours later. VERY great loss! Please keep my family in prayer. This is the 1st season without him. My first granddaughter, Layla was born on Jay's birthday.
Thank you all for all your prayers and sending me the Wit letter. I do appreciate it very much!
You all do a great work. Please let me know if i can help in any way.
LOVE & PRAYERS,
Jeanene
I will start by saying, God has really taken me from the gutter to a life of freedom. For many years, life had no meaning for me.My life was full of the turmoil and darkness. I knew of God, but I did not have a relationship with Him.

I grew up in a very unstable environment and encountered unspeakable abuse which lead to reaching out for Love in the wrong places. Because of the abuse, I carried a lot of pain, hatred, and shame for over forty years.  As a result, for over twenty years I used drugs. I used drugs to get rid of the pain; to self medicate. Later I realized that I had added to the pain, by becoming a drug addict.  I would try to stay clean by my own will but that always failed.

Read more...

My life was full of guilt about the background of my life.  I had so much shame in me that even today I still have some of it in me.  I don't have many material things as others do, but I have love now, which keeps me going through the experiences I've had in my past life.

Read more...

I was very insecure growing up.  I had been abused, rejected and hurt.  I continually made bad choices and became an addict because of it.  This left me feeling ashamed and alone.  I was hooked and continued for many years.  My life was out of control.

Read more...

Here is her story:

My life before Jesus seemed fine to me. I was raised in a Christian home attending church and thinking I was a Christian. As I struggled through my childhood into my young adult years I felt insecurity in my "Christianity" always hearing the question being asked " If you die tonight, do you know without a doubt that you are going to Heaven?" and never knowing the answer. I had an impression that if I went through all of the steps and motions I learned, in becoming a member of the church I attended, that would give me the security I was lacking. Out of many fears I never joined the church, mostly because I saw and heard about changes in peoples lives that was expected and I was only living for myself at that time. I was not interested in changing the people, places and things in my life! I thought I was okay because I grew up in church and knew so much about religion. During this season I experienced hopelessness. I had made many bad choices throughout my life thus far and felt that God was mad at me and would never forgive me because I had broken some serious commandments, I could never be saved.

Read more...
<<

Start

<

Prev

1

2 Next > End >>


Page 1 of 2