Dr. Charles Stanley Supports WIT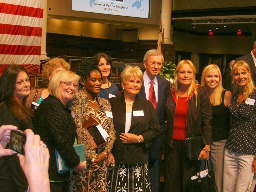 By 2005, God was smiling and amazingly, WIT was chosen as a "Biblical Role Model for Women's Church Ministry" by Dr. Charles Stanley's In Touch Television Ministry!
Therefore, from March 13 - 16, 2005, for four exciting days, an "In Touch Ministries" film crew of four fine Christian men came from Atlanta, Georgia to film the WIT Story: Steve King (Director of Creative Content), Brian Conner (Senior Producer), Kenny Garren (Production Supervisor) and Wayne Baumgardner  (Senior Videographer.)
The filming objective was to capture and demonstrate the great need to reach beyond the church doors to the hurting and often neglected women in our society, particularly those who are and have been incarcerated.
The final goal is to demonstrate how God has called the women of the church to get into action: To reach out beyond the doors of the church and provide a loving, caring, unbiased Christ-centered women's ministry for needy women in our communities.
Filming took place every where: in the Church Service & Sunday School Class, Marion County Jail, the WIT Home, Sheriff's Office, Christian 12-Step Recovery Meeting, Ann and Bob Kuefner's farm and at various locations around Marion County. Chaplain Sergeant Bob Hart, of the Marion County Jail, lovingly assisted the film crew and the WIT Core Group, organizing the filming and interviews at the sheriff's office, the jail and on the Ocala streets. Lee Johnson, chef and owner of Ocala's Restaurant, "Tea With Lee" provided a special Cooking 101 Life Skills Class and meals for the film crew.
Inspiring interviews were also given by Sheriff Ed Dean, Pastor Ronnie Walker, Pastor Damon Walker, women inmates at the Marion County Jail, graduates of the WIT Home Recovery Program,  Church & Jail Pen Pals, and members of our church congregation.
Active WIT Core Group members during this time were Kathy Andriola, Ouida Barrineau, Dee Hillman, Mary Kenyon, Nydia Mechan, Carol Monroe, Christal Silas, Becky Spencer and Ann Kuefner. It is our prayer that God will use the WIT documentary film to assist needy women around the world, both physically and spiritually, through the unconditional love and overcoming power of our Lord and Savior, Jesus Christ.
Editor's note: Since our debut on national television in 2007, the WIT Ministry is being used as a role model in women's church ministries globally. Therefore, on April 11, 2010, we gave our ministry a new exciting look! We changed the name to Women in Truth and launched a new logo and user friendly web site. Although the video still reflects the old name, please be aware of our new name, Women in Truth.