How the WIT Sunday School Began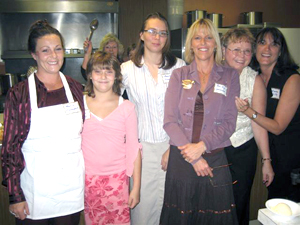 It all began one Sunday morning, as my husband Bob and I were sitting in Gene & Anita Scoggie's Co-Ed Sunday School Class. It was a typical day where we all politely sat in a circle with Lifeway lesson books in one hand and a cup of coffee and coffee cake in the other. Pure luxury!
As Gene so ably taught the lesson, I found myself distracted and self-absorbed in the scripture references for our lesson.  You will have to understand, at this time of my life as a volunteer women's jail chaplain, I was "missing and hurting" for the women who weren't in Sunday School and church, the neglected and the rejected.
My heart became even more convicted as I meditated on Titus 2:3-5: "Likewise, teach the older women to be reverent in the way they live, ...but to teach what is good. Then they can train the younger women to love their husbands and children, to be self-controlled and pure, to be busy at home, to be kind, and to be subject to their husbands, so that no one will malign the word of God.
Without a shadow of a doubt, I knew God was calling me to begin a WIT Sunday School Class, not only as a follow-up for the released women inmates but for any woman overcoming obstacles in her life.
I vividly recall walking out of that Co-ed Sunday School Class with my husband, absorbed in thought and thinking to myself: "I am out of here! No more am I selfishly going to feed myself on Sunday morning!  I need to be feeding younger women with God's Word!"
A few days later, I was not discouraged when the Minister of Education told me "There is no room in our church for another Sunday School Class......maybe after the education committee meets next fall we can think about it."  But God is faithful and this was His plan He called me to accomplish for His purposes and His glory! There was no way I was going to give up! And sure enough, a few minutes later, when I spoke with the Senior Pastor Ronnie Walker, he beamed with joy and said without hesitation, "Yes, absolutely, start the WIT Sunday School Class next Sunday! You can have the upper floor of the Evans Building!"
Thus, the very next Sunday, WIT began with three released women inmates who had faithfully attended my WIT Services in the jail. They knew me and didn't hesitate to come. This was the beginning of a "Jail Homecoming Celebration" almost every Sunday, as familiar faces began to show up!  Soon the news spread and other women from the congregation began to trickle in from all walks of life carrying a wide-range of strongholds and circumstances. Almost right away, some volunteered to join the WIT leadership team.........as God had called them the same way He had called me!  United under the Lordship and unconditional love of Jesus Christ, we became one....a loving fellowship of unique women who were ready to experience our "new life in Christ" like never before!  What about you?  We welcome you to join us too!