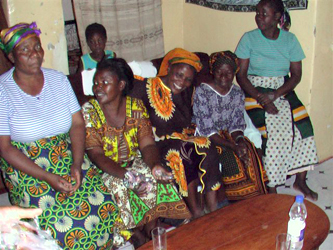 Invited to be the guest speaker at a Lusaka, Zambia Baptist Women's Conference in 2004, Ann Kuefner spoke to an enthusiastic and responsive audience when she shared the objectives and goals of the Women In Truth Ministry back home in America. It wasn't long before letters began to arrive about the "start of the WIT Ministry in Lusaka"....the most populated city in Zambia and one of the most poverty stricken areas of the world.
The first WIT Ministry began at the Jack Baptist Church led by Pastor Maxen and Stellia Phiri.  Due to the Aids epidemic, many women and children are virtually left behind.....with no food, clothes and shelter.  WIT Director Stellia and her core group of church women, wisely determined their first mission would be to assist widows.  Orphanages are being built for children but the women seem to be left on the streets to take care of themselves.  Thus, WIT began visiting and reaching out to the sick with the comforting, caring love and good news of Jesus Christ.
It wasn't long before WIT organized a shop in the village market place to help support the homeless widows. Soon a sewing machine was purchased to begin teaching sewing skills so  women can find employment.  Some farm land was donated for crops to be planted, providing food for the hungry.  Last year, Maxen and Stellia sacrificially gave space in their yard to build a three room block WIT Home and Training Center for women in need.
Our WIT Ministry in Belleview, Florida are blessed and privileged to partner with WIT Zambia through love offerings collected during each Sunday School class.  If you would also like to partnership with a WIT in Zambia, please let us know by This e-mail address is being protected from spambots. You need JavaScript enabled to view it .
In Matthew 25, Jesus thoroughly explains it is how we treat others that count!  It isn't about wealth, ability or intelligence.  It is about simple acts of mercy we can do every day.  According to Jesus, there is no excuse for neglecting those with deep needs or giving the responsibility to someone else.  Jesus illustrated this point by saying, "I was hungry and you gave me something to eat, I was thirsty and you gave me something to drink, I was a stranger and you invited me in, I needed clothes and you clothed me, I was sick and you looked after me, I was in prison and you came to visit me. "I tell you the truth, whatever you did for one of the least of these brothers (& sisters) of mine, you did for me."  On the other hand, Jesus further explained, "I tell you the truth, whatever you did not do for one of the least of these, you did not do for me." "Then they will go away to eternal punishment, but the righteous to eternal life."