Sherry is a young mother who was a victim of drugs for years, spending many years behind bars! Today, you would never know it! She is a graduate of WIT, is in management training for a major business, has taken college classes,  has her own home, has full custody of her teenage son, and together they are heading off on a church mission trip in June! This past month, we were rejoiced  to make Sherry a member of the WIT Core Leadership Group.
Hi, my name is Sherry , and I am a follower of Jesus. I received the Lord into my heart 2 1/2 years ago at the age of 44 in my cell one night while in Lake County Jail.
I had lived many years in darkness with a very strong addiction to drugs, alcohol, and money. For many years I tried in vain to come up out of it---entering treatment centers and attending recovery meetings, all to no avail. My sobriety never lasted more than a few months and then once again shame, guilt, and condemnation would set in over past hurts and failures.
Once again I would choose to believe the lies of the enemy of whose I really was. Over and over again I would lose everything and end up behind bars.
In December of 2004, on my last trip to jail, I had finally given up. I just couldn't see the point in trying anymore, only to fail again. I was so utterly lost, and my soul was in great despair. I was finally broken and knew that I no loner existed. I guess you could say that I had died to myself, and at that point the Holy Spirit was able to reach my heart and bring me gently to my knees.
So I cried out to Jesus and asked Him to save me. I knew I could no longer live without Him.That night I asked the Lord to forgive me and to please come into my heart and make me whole again....He did. I still faced another jail to go to and then an 18 month prison sentence---but, I was free! For the first time in my life, I was finally free.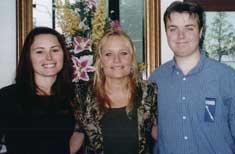 When I was released from prison, I came to the Women in Touch Recovery Home, where I was given the love, support, and guidance I needed to build a spiritual foundation upon which I could learn to live in this beautiful but fallen world. And our God blesses those who are obedient. Today I have a great job, and I am presently in training for management.  I maintain my own home and God has restored my family relationships.
He has also given me a wonderful church family who loves me and nurtures me in my daily walk with Christ. Today I know whose I am. I am a child of God, the daughter of a King, and "I can do all things through Christ who strengthens me."
It is my heart's desire that everyone who is lost and hurting would come to know Jesus---would come to know the truth---for the truth shall set you free.